Timothy F. McDevitt, MD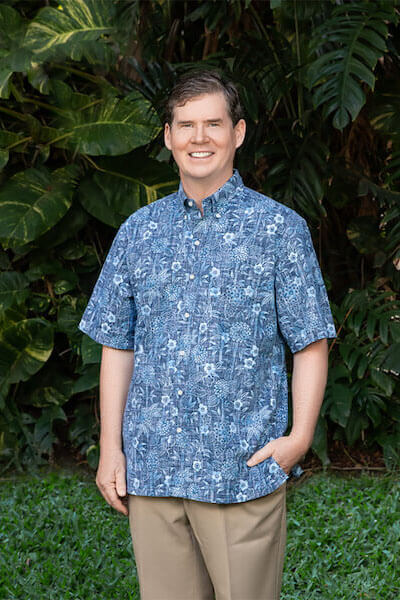 Timothy F. McDevitt, MD is an oculoplastic surgeon specializing in cosmetic surgery of eyelids and brows as well as plastic and reconstructive surgery of the eyelids, tear duct, and orbit. He is board certified by the American Board of Ophthalmology.
Dr. McDevitt has been in private practice in Hawaii serving the residents of Oahu and all neighbor islands for over 20 years.
Dr. McDevitt attended The College of William & Mary where he earned degrees in Pre-Medicine and Economics. He then went on to receive his Medical Degree from Dartmouth Medical School.
Dr. McDevitt has numerous years of training at the New York Eye and Ear Infirmary, Manhattan, Eye, Ear, and Throat Hospital, as well as Lankenau Medical Center in Pennsylvania. Dr. McDevitt held the position of Chief Resident at St. Vincent's Hospital and Medical Center in Manhattan during his final year of residency. He completed his fellowship in Oculoplastics under innovator Dr. Stephen Bosniak.
Dr. McDevitt is a founding member of the Asia-Pacific Society of Ophthalmic Plastic and Reconstructive Surgery (APSOPRS). He is a member of the American Academy of Ophthalmology where he completed the first leadership development program and received the special recognition award for outstanding service that improves the quality of eye care. Dr. McDevitt is also a member of the American Medical Association and the Hawaii Ophthalmological Society among others.
Dr. McDevitt is the current Section Chief of Oculoplastics Surgery and an Assistant Clinical Professor with the University of Hawaii John A. Burns School of Medicine.
Outside of work, Dr. McDevitt enjoys spending time with his wife and two daughters, running, hiking, and barbequing at the beach with friends.
---
Education
Dartmouth Medical School,
Hanover, New Hampshire
The College of William and Mary,
Williamsburg; Virginia
Training
Manhattan Eye, Ear & Throat Hospital
Oculoplastics Fellowship
New York, New York
New York Eye & Ear Infirmary
Residency in Ophthalmology
New York, New York
Lankenau Hospital
Internship in Internal Medicine
Philadelphia, Pennsylvania
---
Academic Societies
Testimonials
"Very professional yet friendly. Surgery was a success without any noticeable marks under the eye. It was magical per say."
Laalaai
"Excellent customer service from admission to end of procedure ( removal of small cyst below my right eyelid ) Staff were very nice, friendly, courteous, and compassionate. Dr Mcdevitt is excellent, explains procedure thoroughly, very caring with great bedside manner. This was my first time to have a procedure done under his care. I recommend him for my friends and others needing oculoplastic service in the future. Thank you from the apex of my heart."
Bonnie
"Very Professional Office personnel and Nurses. Dr. McDevitt is obviously very experienced and very comprehensive in his exam and explanations. Explained all my options and I will definitely be back for the Surgical Procedure."
Kevin
"Wonderful doctor. Diagnosed my problem and took care of it, after having seen so many doctors for more than two years. Thank you, Dr. McDevitt."
Laura
"My experience was extremely pleasant from staff, Dr McDevitt, anesthesiologist, everyone! My procedure went well and Dr. McDevitt was so professional that I barely felt a thing. This is my first day out and I have very little swelling or pain. I am very happy and pleased with the procedure. Thank you all for such a pleasant experience💖."
Karri
"Dr. Mcdevitt gave me good advice about the next steps to take. It was a good reminder about self advocacy as a patient. I appreciate his friendly no-nonsense manner. No wonder Dr. Shein recommended him."
Ned
"Always great service & Dr McDevitt is awesome 👍"
Suzanne
"I recently had eyelid surgery done by Dr. Timothy McDevitt. I have been a patient of his for several years now. He has been treating me for dry eyes. The surgery went very well. The nurse and anesthesia doctor were so professional answering all my questions. Carla at the desk also answered my questions about the medications that had been prescribed. I did use the pain medications that were prescribed and the cold compresses were a big help with the swelling. The ointment was a big help with the stitches. I am very pleased with my surgical experience and the results of the surgery."
Cathy
"Dr. McDevitt is excellent at what he does which is provide the best medical and aesthetical care for your eyes. He is attentive to your needs and he explains every aspect of the treatment and care he provides you. He always invites questions and answers any concerns you may have. Also, the staff is very efficient and friendly."
Anamarie
"Doctor Mcdevitt and nurses were very caring and interested in my situation. They were there to answer any questions and concerns."
Betty
"Dr. Mcdevitt and staff are as professional as they come. Even during the height of the pandemic Dr Mcdevitt not only fit me in but also was able to get my needed operation booked ASAP."
Matthew
"Excellent bedside manor. Took his time to explain the DCR procedure to remedy a clogged lacramal(tear duct) gland. Surgery went uneventful. I recovered just as he explained. Scar is unnoticeable! 3 months after surgery, stent has been removed & doing well!
Highly recommended!"
Edwin
"Very professional, explained procedure well, always on time, takes the time with the patient.Highly recommended!"
Patricia
"Dr. McDevitt removed a nevus—like a black mole about 3mm from my eyelid. Two weeks later, I can not even see where the cut and operation was. He is a master and highly recommend. He is very precise and business like, ecstatic with results."
Christophe
"I had my first appt and surgery today with Dr Timothy McDevitt. Initial impression was honest, straight forward and very professional. He explained everything to me & gave me visual of my issue. He provided me my options and was honest of what he wouldn't recommend for me, but still left it up to me to chose what I would want to do. I told him the surgery and he was able to do it within the same visit. During this surgery he was pretty impressive. I've had my share of surgeries in my life and he was by far the most informative the entire time. Step by step walking me through what he was doing or what he was about to do. I was a little worried & nervous because I never met him nor ever had anything down with my eye before. Meeting him in the consultation eased my nerves. During the surgery I was calm and that was thanks to him and his professionalism. I know I just had the surgery and still need to do a follow up, however DrDevitt exceeded my expectations."
Maluhia